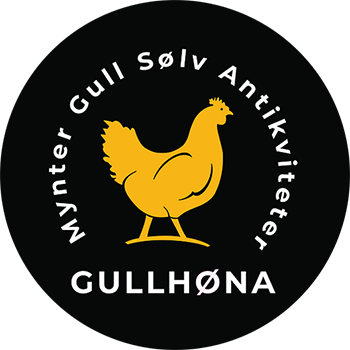 ---
Opening hours
Mon.:
Tue.:
Wed.:
Thur.:
Fri.:
Sat.:
Sun.:
---
---
---
Fjordgata 46, 7010 Trondheim
---
---
---
---
Gullhøna, or «The Golden Hen», is a shop in the city center of Trondheim that buys and sells coins, notes, gold, silver, and antiques. The shop is well worth a visit, and you could easily find some hidden treasures there.
The story about "the Golden Hen" has a fairytale-based name and feeling, but where traditional fairy tales start with "Once upon a time" the tale of Gullhøna begins with a passion for gold, coins, notes and antiques. The store is owned by the married couple Alina and Torbjørn Aune, and they are also the ones you will meet in their store – in addition to the golden hen, and their dog. The hen is stuffed, but the dog is very much alive.
Alina and Torbjørn got over 30 years of experience, and they know that they rely on trust and credibility. That's why they go a little further than most to deliver good service and great experiences for their customers.
Gullhøna, the golden hen, welcomes you to a shop that you can't just talk about, it needs to be experienced. You will find that even if all that's glitters are not gold, it can be worth its weight in gold.
Gullhøna – Gold worth for collectors. You can find us at Fjordgata 46 in Trondheim
---