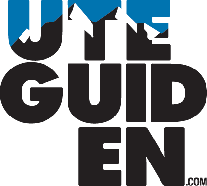 ---
Opening hours
Mon.:
Tue.:
Wed.:
Thur.:
Fri.:
Sat.:
Sun.:
---
---
---
Notenesgata 3, 6004 Ålesund
---
---
---
---
Guided trips, courses & rentals
Uteguiden AS is the leading adventure company on the Norwegian west coast. We offer a broad range of adventures, all year round, from ski touring to climbing and kayaking to glacier trips. Our goal has always been and will always be to provide the best guides and the best adventures possible between deep fjords and craggy summits.
OUR SERVICES
– Skiing
We offer a wide spectra of ski adventures on the Norwegian west coast. Everything from powder skiing, in and around Stranda ski resort in January, to ski touring around Stryn in June. On all our trips, we focus on finding the best snow available and giving our clients a unique experience. We are the area's best provider for your tailored made adventures. All our trips can be customized to your needs, skills and level of experience. We´re looking forward to share this amazing place with you!
– Alpine trips
Mt. Store Brekketind is an classic alpine hike in Sunnmøre. It includes everything you're looking for in a spectacular hike; Glaciers, scrambling, beautiful views – all you can wish for!
– Hiking
Hiking to mount Saksa: This is one of our absolute favorite mountains in the area around Hjørundfjorden for several reasons. One of them is the view from the top, where you can see all the way to the end of Hjørundfjorden in one direction and out to Ålesund in the other.
– Climbing and Ice climbing
Sport climbing: Stranda and Stryn offer great opportunities for those who wants to learn about climbing. Whether this is your first time climbing or you have climb a bit before, our rock climbing sites, located down by the fjord, are easy and accessible to everyone.
Ice climbing at Stranda skiresort: test your skills, agility and strength while ice climbing with us at Strandafjellet. In the middle of the resort, we have optimal conditions for ice climbing. Not sure this is for you? We have been climbing with customers from the age of 7 to 70 years old. Ice climbing is for everyone.
– Kayaking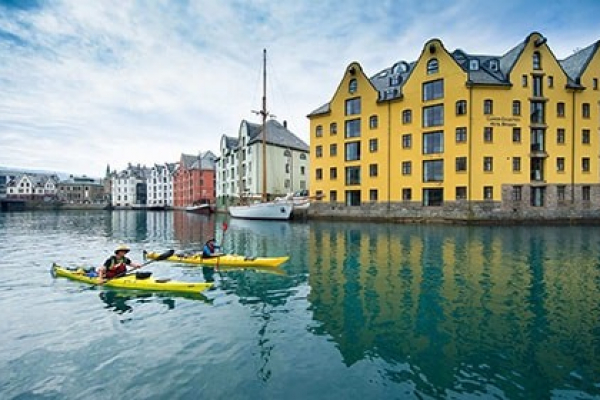 From our activity centre´s in Ålesund and in Stranda we offer a good selection og guided kayak trips and kayak rental through bigger parts of the year. Our shorter trips suits the more unexperienced kayaker and families, for those who´s up for a bigger challenge we suggest our multi day trips or our kayak & hike trips.
– Biking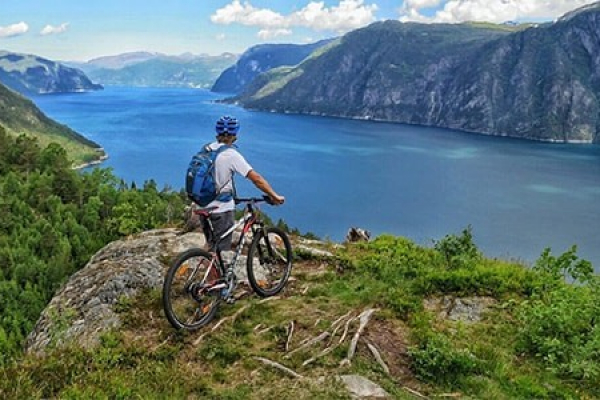 We offer a good selection of bike trips from our activity centre´s in Stranda or Ålesund, either if you want a half day adventure or a tailor made alpine biking trip in our region. Contact us for your offer!
– Courses
Looking to learn more about avalanches and mountain safety? Our guides have been working as avalanche professionals for the last 25 years and have taught avalanche courses all over the world.
– Rental
Available from both our locations, you'll find a wide variety of equipment for rent. Everything you need for your personal adventure in the Sunnmøre alps, from electric bikes to touring skis. If you're looking for something specific and can't find it below, give us a call or email us.
We are looking forward to welcoming you to the Sunnmøre Alps!
---