---
Opening hours
Mon.:
Tue.:
Wed.:
Thur.:
Fri.:
Sat.:
Sun.:
---
---
---
Tempevegen 17, 7037 Trondheim
---
---
---
---
Sixt car rental offers rental cars from Trondheim Vaernes Airport, the city centre and at Heimdal. Vaernes airport is only 35 km north of Trondheim and the city centre office is placed in Tempeveien. Sixt car rental offers a great deal of different types of cars and brands.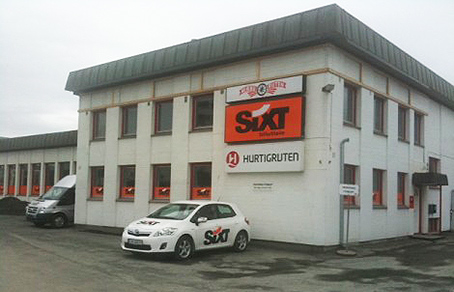 With a rental car from Sixt you and your whole family can experience the city. Trondheim is the third largest city in Norway with a lot of good shopping, restaurants and hotels. The city has a lot of beautiful buildings like Nidarosdomen, Erkebispegården, Stiftsgården which is the royal residence in Trondheim, and also Sverresborg which is a museum. Trondheim is known to be a great university town and all students will get a discount at Sixt car rental.
---