---
Opening hours
Mon.:
Tue.:
Wed.:
Thur.:
Fri.:
Sat.:
Sun.:
---
---
---
postam@sunnmore.museum.no
---
---
---
---
From the city's emergence as a seafaring town to events such as the great fire and the German occupation, Aalesunds Museum provides a genuine insight into the history of Ålesund. Centrally located on Museumshaugen, overlooking the city and its surrounding islands, awaits an entertaining and educational experience for all visitors.
Exhibitions
Aalesunds Museum features permanent and temporary exhibitions with an emphasis on history and daily life. The exhibition covers the four floors of the museum. Become more familiar with the the coastal towns history. See the exhibitions "The Great fire in 1904", "Aalesund during the occupation" and "Uræd" the first enclosed lifeboat to cross the North Atlantic.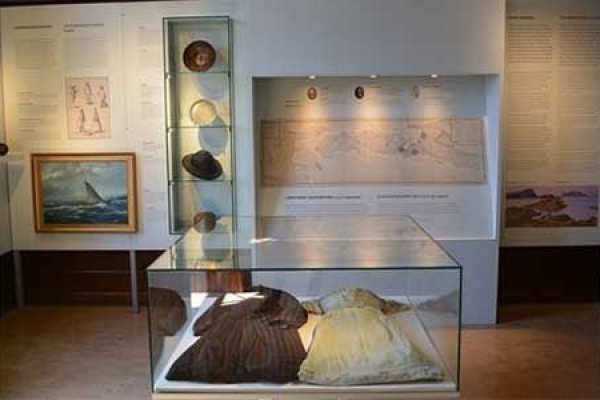 The combined tickets are valid for both Aalesunds Museum and the Fisheries Museum.
Adults 60,-
Children (6 – 16 Years) 30,-
Senior 50,-
Student 50,-
Family (Max 4 pax) 150,-
Group tickets (Min 10 pax) 40,-
Combined ticket adult 100,-
Combined ticket senior 80,-
Combined ticket student 80,-
Combined ticket child 50,-
Every Friday from 12 – 4 pm, from 29th June to 17th August, there´s activities for children and families at Aalesund Museum.
---