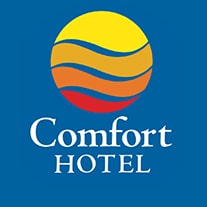 ---
Opening hours
Mon.:
Tue.:
Wed.:
Thur.:
Fri.:
Sat.:
Sun.:
---
---
---
Karl Johans gate 12, 0152 Oslo
---
---
---
---
The Comfort Hotel Karl Johan opened its doors in March 2016, right on Oslo's main street with the same name. A good-value hotel with stylish design, and a world-class bar and restaurant. This is the ideal hotel for tourists, business travellers, groups of friends, shoppers, concert-goers, adventurers and anyone else in fact!
In the heart of Oslo
The words "easily accessible" are most often used to describe how easy it is to reach a hotel, but we prefer to flip things around. For us, it means that Oslo is easily accessible to our guests. We're not boasting (okay, maybe a little) – but we do things differently. Come in and see for yourself what we mean by "Urban, Easy, Living" here at the Comfort Hotel Karl Johan!
Unique hotel rooms
The hotel has four different interconnected buildings and 181 unique hotel rooms. So, you can stay here for 181 nights in a row without seeing the same room twice.
Restaurant and bar
If you enjoy seafood, French cuisine and delicious drinks, we highly recommend our new restaurant! Rodins Bar & Bistro is also connected to our outdoor terraces – ideal for socialising, after-work drinks, lunches and relaxed dinners. Find more information about the restaurant and our courtyards here.
Oslo on your doorstep – quiet in your room
When you stay at the Comfort Hotel Karl Johan, city life is quite literally just moments away. Want some insider tips? We're pretty sure that we know Oslo better than any of the guide books. More information about Oslo here.
Karl Johan
Karl Johans Gate is the main street in Oslo, named after Karl III Johan when Norway still belonged to Sweden. The street starts at Oslo Central Station and continues as far as the Palace. So, the most important building between Oslo Central Station and the Palace is, you got it, the Comfort Hotel Karl Johan!
Exercise whenever you like
Sit back and relax in one of our sofas in the lounge, or get some work done on your computer at one of the tables. Those of you looking to do some exercise, can work up a sweat any time you like in our gym downstairs!
Cash-free
The Comfort Hotel Karl Johan is cash-free, which ensures added security for our guests and visitors. More information about this can be found under FAQs.
---