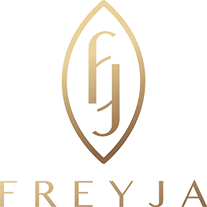 ---
Opening hours
Mon.:
Tue.:
Wed.:
Thur.:
Fri.:
Sat.:
Sun.:
---
---
---
Tordenskiolds gate 6, Oslo
---
---
---
---
Freyja Jewelry was established in 2008, in Oslo Norway. Freyja is located in the heart of Oslo, Tordenskiolds gate 6B, the ground floor of Hotel Verdandi. Freyja, in Norse mythology, is the Goddess of love, also associated with beauty, lust and fertility. Freyja is a symbol for strong woman, with the message – "wear your confidence" is what Freyja wants to bring to the customers. Freyja provides exclusive jewelry, including 4 major lines, silver and gold plating jewelry, luxury 18 Karat gold jewelry, high-end customized Diamond, and natural amber jewelry.
The Silver and gold plating jewelries are all hand-made by our creative designer team. All the products are unique and limited. 18-karat gold jewelry offers a good balance between durability and purity, and is the most modern, manageable, stylish and exclusive piece of jewelry. The diamonds from Freyja are provided with HRD Antwerp certificate, for those who are interested in having tailor-made diamond jewelry. All diamond rings from Freyja are approved by the GIA.
The all-natural and beautiful amber from Freyja is found within the Baltic Sea. Each and every piece of amber is so unique and special that it has its own set of shape, patterns and colors. Freyja aims to open up a new concept with simplicity and luxury, by utilizing the jewelry to tell a message, a story, and a promise.
Freyja offers the best shopping experience to their customers and hope that they find that special piece of jewelry that suites them. Freyja warmly welcomes every customer.
---