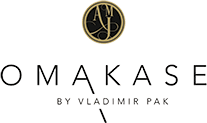 ---
Opening hours
Mon.:
Tue.:
Wed.:
Thur.:
Fri.:
Sat.:
Sun.:
---
---
---
Ruseløkkveien 3, 0251 Oslo
---
---
---
---
Omakase means "I trust you". Omakase serves a style of sushi called Edomae sushi, Edomae which in Japanese derives from Edo = old name for Tokyo, mae = close.
This is the highest form of the art of sushi where the Itamae (chef) seeks to exploit the produce they finds in their vicinity, and then present it as pure and simplistic as possible, as so to enhance the natural flavour and texture of the produce.
Chef Pak is one of the most influential sushi chefs in the world. He became a world champion In the style of Edo-mae in Tokyo World sushi Cup 2017.
"90% of what I use is Norwegian produce, locally caught, and during the times when we are closed (they are open only between Thursday- Saturday, with 1 seating each day), I am actively working with fishermen, divers and fishmongers, so we together learn, investigate and study the incredible diversity we have here on the west coast of Norway."
---