---
Opening hours
Mon.:
Tue.:
Wed.:
Thur.:
Fri.:
Sat.:
Sun.:
---
---
---
---
---
---
---
As a fine dining neighborhood restaurant, The Indus is an establishment offering authentically prepared high quality Indian-Pakistani cooking with a gentle twist.
You are welcome for an unforgettable experience!
Our staff strives constantly to provide a service that is both warm, friendly and efficient.
With a diverse range of regional dishes, all the way from the streets of Lahore to Kerala's beaches – and everywhere in between – our Tandoori and curry menu consists of an uncompromizing, inherited family recipes where we use both traditional and modern cooking techniques to bring you the absolute best of regional cooking from India and Pakistan.
Khao-Piao-Mauja Manau – Eat-Drink-Enjoy Life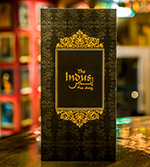 At Indus Fine Dining, we offer a full dining experience to our guests. From our kitchen, the guests can enjoy the chefs unique culinary experience as well as the scent of the delicious dishes that are prepared. Here, you can choose between many kinds of food: Sauces and desserts are made entirely from scratch with fresh ingredients. Our chefs are particularly determined to blend the Indian / Pakistani kitchen with mixes of spices, added with international flavors. Besides our á la carte menu, we provide a wide selection of Italian and Spanish wines and our own customized cocktail menu, to be enjoyed in our cozy Restaurant with good music and nice atmosphere.
---